Purchasing Facts in Grass Valley, CA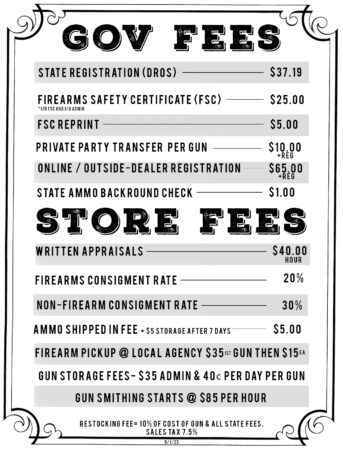 Identification in the form of a Real ID.
If a Real ID is not available (proofs of ID are required):
Birth Certificate
Current Passport

Proof of residence
Examples of government issued proof of residence:
Car registration
Voter registration
Property tax
DMV notice for renewals
Court documents
Concealed Carry Weapons permit
W2
Examples of non-government issued proof of residence ( current within 90 days):
Utility bill ( except cell phone)
Rental agreement from the current year
Bank statement
Mortgage bill
Medical bill
W4
A current Firearms Safety Certificate.
Firearms safety certificates are a 30 question, multiple choice test that may be taken in house.
We can laminate your card for you for $3 upon completion.
*If purchaser is a current CCW holder a FSC is not required*
We accept FFL transfers:
FFL to FFL transfers are $65